The 2016 building season ended with the close of October at the Big Creek Lodge site. We got a lot accomplished during the year but were unable to complete the lodge. Here is a recap of all the activity: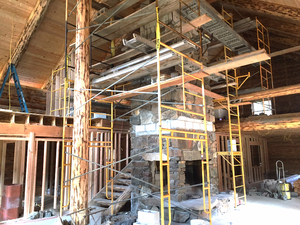 Fireplace and Framing at the end of 2016
Overall: The financials and the lodge itself are in good shape, with only about $77,000 needed to complete the actual construction in 2017, while an estimated $79,000 is needed for finishing details, repairs to historic buildings on the site, develop a new website, etc. We have money in the bank to begin work in 2017 until those final funds can be raised.
In 2017 we need to complete:
Electrical - complete rough-in on second floor and connect to power;

Plumbing - complete rough-in on second floor, install fixtures (70% already on site)

Framing - finish second floor;

Fireplace - finish masonry the last several feet at the top and complete chimney above roof;

Install fire suppression system (materials on site already)

Hook up/complete water distribution systems;

Accomplish Grading/Landscaping;

Complete inspections.
And here is your year in review, starting with headwinds but chasing that with the great tailwinds we had this year.

Headwinds - we encountered some challenges this year:
Funding: After Bruce Parker's tremendously successful Cessna 172 raffle program that netted nearly $50,000 after expenses, donations slowed in mid-summer. Being fiscally responsible, we would not continue work without the funds to complete major milestones, so we paused some work until we had more than sufficient funds for our goals (See Tailwinds section) - and ended the season on a high note. In the coming months, we will make more applications for grants and finish requests to specific potential donors down the

homestretch.

Schedule: The complexities of the project increased this year versus 2015 due to juggling many sub-projects (electrical, plumbing, masonry, framing, septic, hydroelectric etc.) vs. one big one last year. Like many large building projects, the schedule changed with variables such as weather, equipment, people, and funding - but Big Creek's remote location, lack of utilities, and lack of reliable communication resources exacerbated schedule challenges. During the winter we will spend more time planning vendors and contractor work. We are also going to use more contract labor than originally intended - which adds some costs - but will be more efficient in getting it completed.

Some volunteer work is still available and will be coordinated through Jim Davies (jdavies@idahoflyer.com).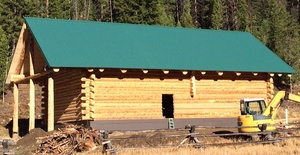 Lodge at the end of 2015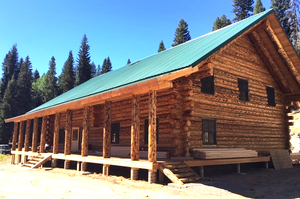 Lodge at the end of 2016
Tailwinds - we had success in these areas:
By August/September, our fund raising efforts began to produce results, and funding floodgates opened that allowed us to get back on track;

IAF was honored to receive a $100,000 grant from the J.A. & Kathryn Albertson Family Foundation, awarded due to the project'simportance in improving the social well-being for the public;
We received another $75,084 in donations from several individuals plus groupdonations from the International Cessna 180/185 Club and SuperCub.org-National Bushwheel Awareness Week from August through October;
IAF received a donation of bathroom fixtures from American Standard and DXV, brands owned by Lixil. This was accomplished through the leadership of Lixil's Wade McNabb from Tennessee, and Idaho suporters Bob, Jane, and James Hoff, plus the design assistance of Marsha Davies. For the seven bathrooms in the lodge, we received toilets, sinks, valves, faucets and various bathroom hardware valued at $20,000. Ray Arnold Aviation donated flights to get this material into Big Creek so it would be there for work to start before the road at Profile Gap is navigable in July.
With the new funds, we were able to accomplish the following:
-Completed the porch and porch roof;
-Completed chinking and log oiling inside and out;
-Cut in and installed windows and doors;
-Hooked up septic system to lodge;
-Completed main floor room framing and part of second floor;
-Roughed in most of main floor electrical and plumbing;
-Neared completion of the fireplace.

Bathroom fixtures are on site, courtesy of American Standard and DXV
Other Milestones
-The Breakfast team (you know them: Larry, Bill, Doug, Sparky and Wally plus others!) hosted three breakfast events during the year, and served 210 meals in a beautiful setting;
-We determined that the Log Lifters will be honored with names put on a large donated cross cut saw - it will fit nicely with the lodge aesthetics.
-Phil Pryor, with help from wife, Roxie, completed restoration of the Big Creek 1920's era gas pump which will be displayed on the porch of the lodge;
-Bruce Vanderhoff completed extensive repairs on the 8-foot long "Big Creek Lodge" entryway sign which will be on display for opening day!
-Wally Glass was on site for several weeks and helped to coordinate improvements on the yurt, put together needed first aid & emergency kits, and other projects;
-John Bovee built much needed shelving in the General Store building, and others assisted with rock preparation for the mason work, repaired vehicles on site, and repaired hydroelectric water lines.
In summary, we accomplished a great deal this year even though we did not attain the goal of completion in 2016. We have lots to do next year, and the winter will be spent planning, planning, planning…and fund raising for that final $50,000!

We are thankful for your support and belief in this project—this is YOUR lodge and it is becoming a reality soon. If you have been meaning to donate for the first time or once again you can donate at www.rebuildbigcreek.com/index.php/donate or call our Treasurer, Nadine, at 208-861-9056.